Welcome to PSL Computer Repair
Call Us at (772) 349-9125 or (772) 249-2886

Looking for fast, smart and reliable Port St Lucie computer repair service? Click the New Customer Coupon to save $25 off your first visit and let us prove to you how good we really are! Just click the coupon and print!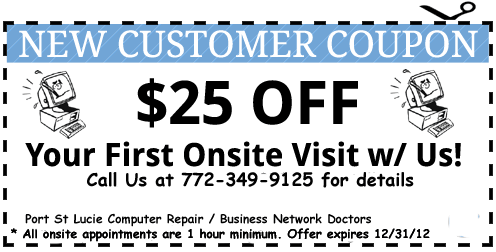 Port St Lucie Computer Repair home, corporate and small business computer repair and IT services in Port St Lucie, Stuart, FL and surrounding areas. We also perform virus and spyware removal, internet and wireless setup and repair, data recovery, corporate and small business network setup and maintenance.

Our computer repair and virus removal rates in Port St Lucie, Stuart, FL and surrounding areas are $75 for the first hour and $65 per hour thereafter. Our typical service call is an hour and a half, but times vary depending on the computer repair performed.

First time working with us? Print out this Port St Lucie Computer Repair Coupon to save $25 off your first appointment with a friendly, knowledgeable Microsoft MCSE certified computer repair engineer!

We have been providing computer and laptop repair services for small businesses and home users in Port St Lucie and Stuart area since 1998. We give a personal level of support to all our customers and keep them by providing fast, reliable, professional computer repair services whether it's for your business computers, home office or home computer. Our goal has always been to establish lasting relationships with our customers.

Our services range from fixing simple personal computer problems to solving complex business networking issues. You can count on Port St Lucie Computer Repair a division of Business Network Doctors for all your computer repair needs. If you are located in Port St Lucie, Stuart or anywhere on the Treasure Coast we are here to help.

To set up an onsite appointment in the Port St Lucie, Fort Pierce or Stuart area or to discuss your computer or networking issues contact us at:

(772) 349-9125 or (772) 249-2886
From 8:30AM to 6PM M-F
Our Hourly Support Rates
We give you upfront pricing for the most common issues

Home Rates:
On-Site Service - $75/hr - With onsite visits we are capable of providing more in-depth and hands-on computer troubleshooting techniques. There's no unplugging and lugging around your system because we come to you. Same Microsoft certified MCSE technicians that handle our small business customers. Just at a discounted rate.

Remote Service - $25 for 1/2 hr - This includes software installs, system and network configurations and general help.

Business Rates:
On-Site Service - $95/hr - On-site we are able to provide more in-depth and hands-on computer troubleshooting techniques for your systems and networking devices.

Remote Service - $35 for 1/2 hr - This includes software installs, system and network configurations and general help.

Half hour minimum for Remote Services, One hour minimum for On-Site Services, Two hour minimum for Emergency after hours or weekend On-Site Service. All rates cover Labor for Technicians. Parts and software are additional